«Conócete a ti mismo»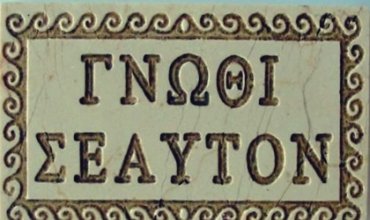 Hay otros mundos, pero están en este.

Dijo Jesús: «Ama a tu hermano como a tu alma; cuídalo como la pupila de tu ojo».
Evangelio de Tomás 25
Las identidades son siempre múltiples y no deberían empobrecerse para servir a una bandera.
La manada, la tribu, la nación, el pueblo. Hay verdadero pavor en los últimos años a desengancharse del grupo, y a perderse en las cosas de cada uno.
Así que lo habitual es tirar el ancla para fijarla de manera firme en algún lugar que dé calor y que sirva para confirmar que sí, que eres de los nuestros. Los expertos suelen referirse a la globalización para entender esa querencia: la gente busca afinidades para no extraviarse en esa vaga nebulosa donde existe tanta diversidad. Hay otros que entienden que son conductas provocadas por la crisis económica, y es que si no fuera por los más próximos podrías haber sido fulminado. Otra interpretación más: Internet te abre a un mundo tan vasto y ajeno que más vale buscar ahí a tus afines y darle al "me gusta".
La peste de las identidades está a la orden del día. Es necesario y urgente pertenecer a algo, vestir las mismas camisetas, levantar las mismas banderas, aspirar a una pureza intachable, ser auténticamente de izquierdas, o derechas, tener raíces, no cometer traición. De lo que se trata, antes que nada, es de compartir unas señas de identidad y de tener localizado al enemigo. Cuando reflexiona sobre los afanes de tantos por legitimar la propia causa en su último libro.
La flecha (sin blanco) de la historia, el filósofo Manuel Cruz cita unas observaciones de un artículo de Tzvetan Todorov, "Cuando uno atribuye todos los errores a los otros y se cree irreprochable, está preparando el retorno de la violencia, revestida de un vocabulario nuevo, adaptada a unas circunstancias inéditas. Comprender al enemigo quiere decir también descubrir en qué nos parecemos a él".
Nada más alejado de la corriente que hoy se impone, donde lo que sobre todo importa es ser de la manada, de la tribu, de la nación, del pueblo. Hay, sin embargo, otros mundos y, por extraño que parezca, están en este. Por ejemplo, William Morris. Vivió en la Inglaterra victoriana y tuvo tiempo para hacer de todo. Fue diseñador, artesano, empresario, poeta, ensayista traductor, bordador, tejedor, impresor, tipógrafo, editor, agitador político, etcétera. Una exposición recoge una amplia muestra de su obra en la Fundación Juan March de Madrid, y en su sala de conferencias recordó el escritor Ignacio Peyró hace unos días que uno de los caminos que exploró para forjar sus derroteros espirituales fue el de regresar al medievo. En la Inglaterra cargada de humo y manchada con el hollín de las fábricas de la era industrial,
Morris eligió el lustre de los ideales caballerescos y el esplendor de las catedrales góticas.
Procedía de una buena familia, jamás tuvo dificultades económicas, tenía las antenas puestas para atrapar cuanto contribuyera a conquistar más belleza.
Pero las injusticias lo exasperaban. Así que se metió en política, entregado a difundir la causa socialista. Hay otros mundos, sí, pero están en este.
Y frente a cuantos reclaman las identidades sin mácula, confirman que las cosas son más complejas, que somos mestizos y que también llevamos al enemigo dentro.
William Morris, (born March 24, 1834, Walthamstow, near London, England—died October 3, 1896, Hammersmith, near London), English designer, craftsman, poet, and early socialist, whose designs for furniture, fabrics, stained glass, wallpaper, and other decorative arts generated the Arts and Crafts movement in England and revolutionized Victorian taste.
Morris was born in an Essex village on the southern edge of Epping Forest, a member of a large and well-to-do family. From his preparatory school, he went at age 13 to Marlborough College. A schoolfellow described him at this time as "a thick-set, strong-looking boy, with a high colour and black curly hair, good-natured and kind, but with a fearful temper." Morris later said that at Marlborough he learned "next to nothing…for indeed next to nothing was taught." As in later life, he learned only what he wanted to learn.
In 1853 Morris went to Exeter College at the University of Oxford, where he met Edward Jones (later the painter and designer Burne-Jones), who was to become his lifelong friend. Both Morris and Jones became deeply affected by the Oxford movement within the Church of England, and it was assumed that they would become clergymen. Nevertheless, it was the writings of art critic John Ruskin on the social and moral basis of architecture (particularly the chapter "On the Nature of Gothic" in The Stones of Venice) that came to Morris "with the force of a revelation." After taking a degree in 1856, he entered the Oxford office of the Gothic Revivalist architect G.E. Street. In the same year he financed the first 12 monthly issues of The Oxford and Cambridge Magazine, where many of those poems appeared that, two years later, were reprinted in his remarkable first published work, The Defence of Guenevere and Other Poems.
Visits with Street and Burne-Jones to Belgium and northern France, where he first saw the 15th-century paintings of Hans Memling and Jan and Hubert Van Eyck and the cathedrals of Amiens, Chartres, and Rouen, confirmed Morris in his love of medieval art. It was at this time that he came under the powerful influence of the Pre-Raphaelite painter and poet Dante Gabriel Rossetti, who persuaded him to give up architecture for painting and enrolled him among the band of friends who were decorating the walls of the Oxford Union with scenes from Arthurian legend based on Le Morte Darthur by the 15th-century English writer Sir Thomas Malory. Only one easel painting by Morris survives: La Belle Iseult, or Queen Guenevere (1858). His model was Jane Burden, the beautiful, enigmatic daughter of an Oxford groom. He married her in 1859, but the marriage was to prove a source of unhappiness to both. Morris appears at this time, in the memoirs of the painter Val Prinsep, as "a short square man with spectacles and a vast mop of dark hair." It was observed "how decisive he was: how accurate, without any effort or formality: what an extraordinary power of observation lay at the base of many of his casual or incidental remarks." From 1856 to 1859 Morris shared a studio with Burne-Jones in London's Red Lion Square, for which he designed, according to Rossetti, "some intensely medieval furniture."
After his marriage, Morris commissioned his friend the architect Philip Webb, whom he had originally met in Street's office, to build the Red House at Bexleyheath (so called because it was built of red brick when the fashion was for stucco villas). It was during the furnishing and decorating of this house by Morris and his friends that the idea came to them of founding an association of "fine art workmen," which in April 1861 became the firm of Morris, Marshall, Faulkner & Company, with premises in Red Lion Square. The other members of the firm were Ford Madox Brown, Rossetti, Webb, and Burne-Jones. At the International Exhibition of 1862 at South Kensington they exhibited stained glass, furniture, and embroideries. This led to commissions to decorate the new churches then being built by G.F. Bodley, notably St. Martin's-on-the-Hill at Scarborough. The apogee of the firm's decorative work is the magnificent series of stained-glass windows designed during the next decade by Burne-Jones for Jesus College Chapel, Cambridge, the ceiling being painted by Morris and Webb. The designs for these windows came to Morris uncoloured, and it was he who chose the colours and put in the lead lines. He also designed many other windows himself, for both domestic and ecclesiastical use.
Two daughters, Jenny and May, were born in 1861 and 1862, and altogether the five years spent at Red House were the happiest of Morris's life. After a serious attack of rheumatic fever, brought on by overwork, he moved in 1865 to Bloomsbury in London. The greater part of his new house was given over to the firm's workshops—an arrangement that, combined with her husband's boisterous manners and Rossetti's infatuation with her, reduced Jane to a state of neurotic invalidism. Morris's first wallpaper designs, "Trellis," "Daisy," and "Fruit," or "Pomegranate," belong to 1862–64; he did not arrive at his mature style until 10 years later, with the "Jasmine" and "Marigold" papers.
As a poet, Morris first achieved fame and success with the romantic narrative The Life and Death of Jason (1867), which was soon followed by The Earthly Paradise (1868–70), a series of narrative poems based on classical and medieval sources. The best parts of The Earthly Paradise are the introductory poems on the months, in which Morris reveals his personal unhappiness. A sterner spirit informs his principal poetic achievement, the epic Story of Sigurd the Volsung and the Fall of the Niblungs (1876), written after a prolonged study of the sagas (medieval prose narratives) read by Morris in the original Old Norse. The exquisitely illuminated A Book of Verse, telling once more of hopeless love and dedicated to Georgina Burne-Jones, belongs to 1870.
Historia general de las Indias
Historia Universal de la destrucción de Libros
AUDIO
Before there was 'The Matrix' and 'Bladerunner', before there was even '1984', there was Brave New World. It is astonishing that Aldous Huxley wrote this tale of technological dystopia in 1932. The social elements from the story are similar to those in Orwell and Kafka and others, namely a society of obedient sheep run by the state and benevolent dictators through brainwashing and groupthink. But what's striking about the novel is how it so astutely anticipates a society taken over by benevolent technocrats rather than politicians, a scenario that appears increasingly likely in the age of AI and genetic engineering.
---