El Adagio de Albinoni, o Adagio en sol menor, es una obra para orquesta de
cuerdas y órgano, compuesta en 1945 por el musicólogo italiano Remo Giazotto.
Publicado por primera vez en 1958 por la editorial: Casa Ricordi, el editor
lanzó como argumento de venta que el autor se había basado en unos fragmentos
de un movimiento lento en una sonata a trío de Tomaso Albinoni, presumiblemente
encontrados en las ruinas de la Biblioteca de Dresde tras los bombardeos de la
ciudad acaecidos en la Segunda Guerra Mundial, pero una prueba seria de la
existencia de tales fragmentos no ha sido nunca encontrada; por el contrario
la «Staatsbibliothek Drésden» ha desmentido formalmente tenerlas en su colección
de partituras. Recibe la denominación de «Adagio de Albinoni» o «Adagio en sol
menor. Arreglado por Remo Giazotto», y suele estar orquestada para orquesta de
cuerdas y órgano, aunque a veces lo es sólo para cuerdas.
Las peores canciones de la Historia de la Música
---
"Carrickfergus" is an Irish folk song, named after the town of Carrickfergus in County Antrim, Northern Ireland.
The origins of the song are unclear, but it has been traced to an Irish-language song, "Do bhí bean uasal" ("There Was a Noblewoman"), which is attributed to the poet Cathal Buí Mac Giolla Ghunna, who died in 1745 in County Clare.
The song appears on a ballad sheet in Cork City in the mid nineteenth century in macaronic form. The Irish lyrics were about a man being cuckolded, a bawdy and humorous ditty. By contrast, the English lyrics are nostalgic.
With the Industrial Revolution, a linen-trade developed between County Antrim (where Carrickfergus is situated), and County Cork. It is possible the English lyrics came from snatches picked up in interactions between the Cork men and the Antrim men.
Robert Gogan suggests Carrickfergus may have evolved from at least two separate songs, which would explain why it does not have a consistent narrative. For example, the Ancient Music of Ireland, published by George Petrie in 1855, contained a song called "The Young Lady" which featured many but not all of the lyrics used in Carrickfergus. Gogan also refers to a recording of a song called "Sweet Maggie Gordon" which is kept in the Music for the Nation section of the US Library of Congress. It was published by Mrs Pauline Lieder in New York in 1880. It contains verses which are similar to Carrickfergus, but the chorus is closer to another Irish/Scottish folk song called "Peggy Gordon".
In modern times, "Carrickfergus" became known after actor Peter O'Toole related it to Dominic Behan, who put it in print and made a recording in the mid-1960s. The middle verse was allegedly written by Behan.
The song has been recorded by many well known performers including Ryan Kelly, Celtic Thunder, Paddy Reilly, Declan Affley, Joan Baez, Bryan Ferry, Dominic Behan, Charlotte Church, The Clancy Brothers and Tommy Makem, Brian Dunphy, De Dannan, Subway to Sally, Joe Dassin (as Mon village du bout du monde), The Dubliners, Garnet Rogers, Brian Kennedy, Declan Galbraith, Irish Stew of Sindidun, Lisa Kelly, Cedric Smith, with Loreena McKennitt on harp (as Carrighfergus), Órla Fallon, Van Morrison, Bryn Terfel, the Chieftains, Ronan Keating, Katherine Jenkins, Allison Moorer and Dexys. It was also adapted in Scooter's song "Where the Beats…". The song is a popular request at folk festivals and concerts, and was played at the 1999 funeral of John F. Kennedy, Jr. The song was more recently performed by Loudon Wainwright III over the closing credits of HBO's series Boardwalk Empire. Furthermore, the Russian singer-songwriter Aleksandr Karpov (a.k.a. "Aleksandr O'Karpov") translated the lyrics into Russian, recording a Russian version of "Carrickfergus", also titled "За синим морем, за океаном" (Za sinim morem, za okeanom – "Beyond the blue sea, beyond the ocean").
Closely related is the song "The Water is Wide", which has a similar tune and very similar lyrics in some lines. Recordings have been made by many people including Bob Dylan, Pete Seeger, The Seekers and two former members of The Byrds, Roger Mcguinn and Chris Hillman, who both did solo versions.

I wish I was in Carrighfergus
Only for nights in Ballygrant
I would swim over the deepest ocean
Only for nights in Ballygrant
But the sea is wide and I can't get over
And neither have I wings to fly
If I could find me a handsome boatsman
To ferry me over to my love and die
Now in Kilkenny, it is reported
They've marble stones there as black as ink
With gold and silver I would transport her
But I'll sing no more now 'til I get a drink
I'm drunk today but then I'm seldom sober
A handsome rover from town to town
Oh but I am sick now, my days are over
Come all you young lads and lay me down
I wish I was in Carrighfergus
Only for nights in Ballygrant
The battle of Carrickfergus
I experienced an odd co-incidence over the last couple of days. I'm currently writing the climax of a novel that will be the sequel to Lions of the Grail (tentatively titled "The Wasted Land") and found myself writing about a largely forgotten battle that took place in medieval Carrickfergus.
I've wanted to write about it for years because it sounds so brilliant- There was an amphibious assault, desperate fighting in the streets and a besieged castle where the defenders had turned to cannibalism. It all happened on Good Friday and Easter Saturday in 1316.
When I checked the date of Easter in 1316 I found it was on April 11, and I was writing a fictional account of events that had happened 698 years ago to the day.
Perhaps those old ghosts were calling to me over the centuries?
Anyway, for those who haven't heard about it, this is what happened.
In 1315, a year after defeating the English at Bannockburn, Edward Bruce (brother of Robert) invaded Ireland, starting a now largely forgotten side war to the Scottish Wars of Independence.
A year later, in 1316, his war had ground to a stalemate, exacerbated by the onset of the terrible European famine that would kill millions over the coming years. Carrickfergus Castle in Ulster still refused to surrender, something which must have particularly annoyed Edward Bruce who was now using Carrickfergus town as his new capitol (he had had himself crowned "King of Ireland" by this time).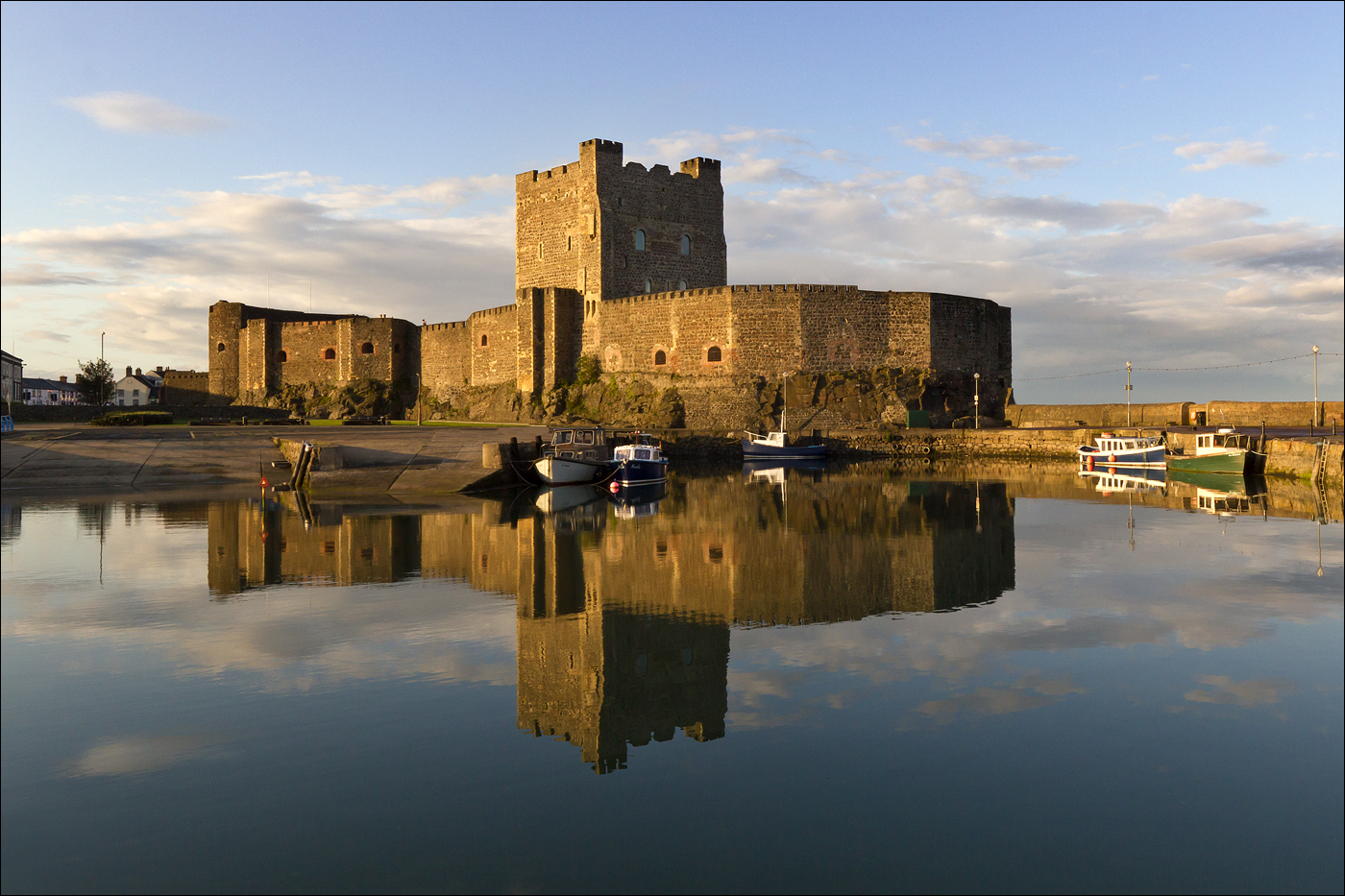 The besieged garrison in the castle were becoming desperate. Rather than see it fall, Sir Thomas de Mandeville-the exiled Seneshal of Ulster- launched a daring attempt to break the siege by sea, taking five ships packed with soldiers and supplies north from Dundalk. The Scottish poet and biographer of Robert Bruce, John Barbour, lists some of the chiefs of the Irish army:
"Brynrane, Wedounne, Fitzwarryne,
And Schyr Paschall of Florentine,
That was a knycht of Lumbardy,
And was full of chewalry.
The Mawndweillis war thar alsua,
Besatis, Loganys, and other ma;
Savages als, and yeit was ane

---